Last modified on 2014-04-27 21:45:58 GMT. 0 comments. Top.
The snow is starting to build up all around the country, with reports of snow from almost every county. Follow all the latest on Twitter using hashtag #irlsnow or #sneachta.
Our snow blowers make it easy to move depths of snow blocking driveways, paths and parking areas.
Salt spreaders help keep circulation areas free of ice, preventing slips and falls.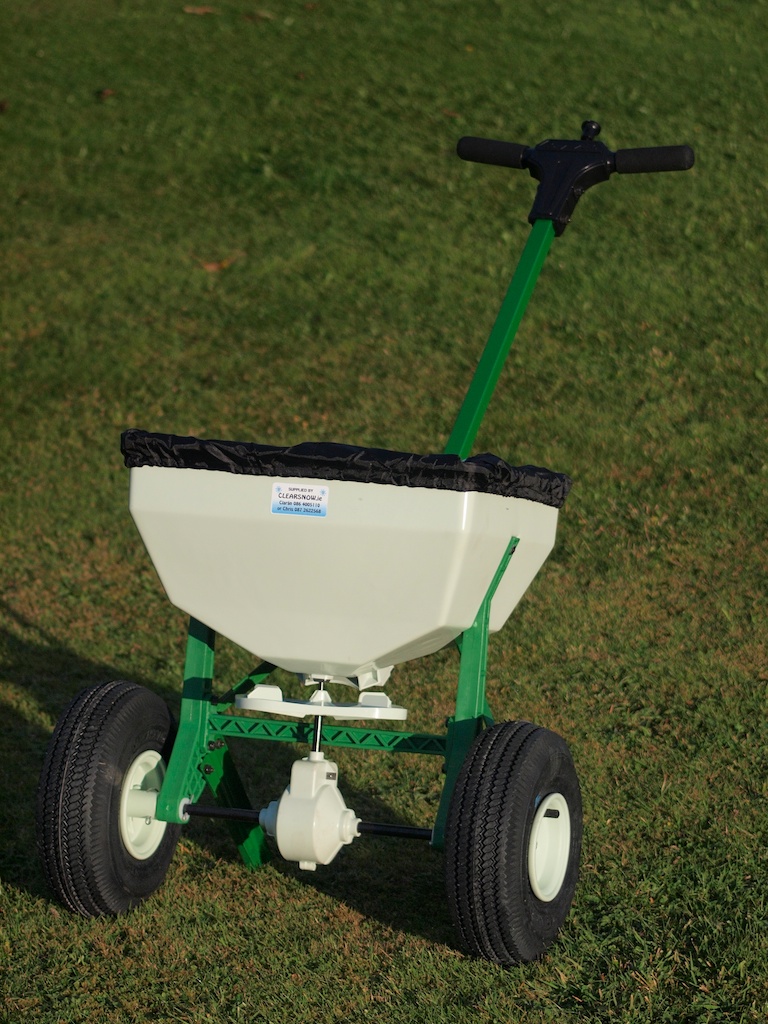 Contact us now to discuss your requirements.
Our online shop is over on Adverts.ie with a selection of winter accessories including Yak Trax ice grips, white marine deicing salt and grit bunkers.
Last modified on 2013-02-18 00:54:12 GMT. 0 comments. Top.
Just in time for the first cold snap of the year (temperatures forecast to drop to -4 degrees C Friday night, 23rd November, we're delighted to announce that our NEW ONLINE SHOP is live, allowing you to view, order and pay for many of our most popular products from the comfort of your PC or mobile interweb machine. It's hosted by Adverts.ie, the same people who run Daft, Boards and The Journal, names that have earned our trust over the years. The range available over there is limited at the moment, but will be growing. We're working with Postplus and An Post to offer the best delivery rates we can, however heavier items will still have to be picked up. IT WILL MAKE ORDERING AND PAYING MUCH EASIER FOR CUSTOMERS SO PLEASE CHECK IT OUT, and share our ads with friends using the Facebook and Twitter icons, thanks!
Link: http://www.adverts.ie/shops/clear-snow/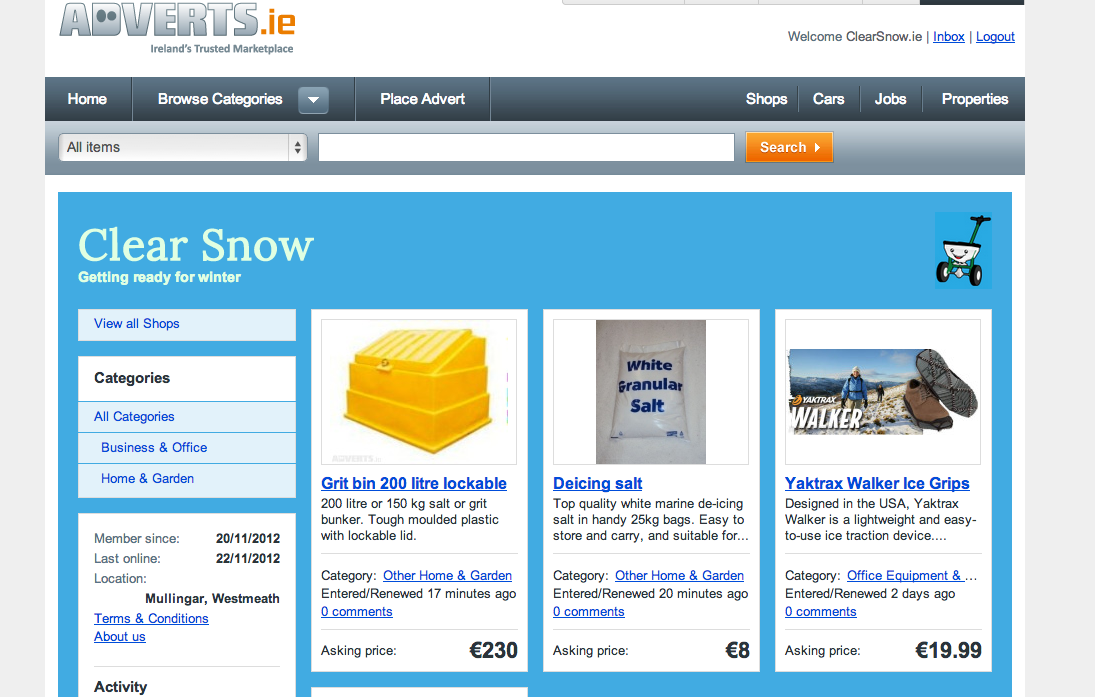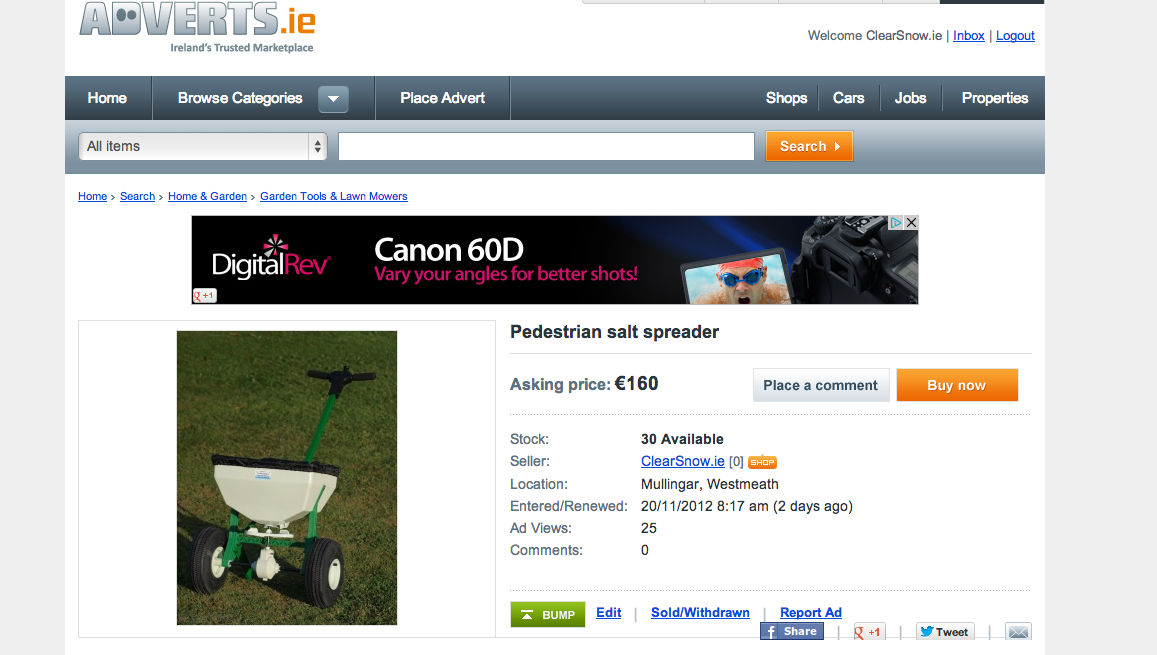 Last modified on 2014-04-27 21:46:05 GMT. 16 comments. Top.
While winter 2011/2012 was mild mannered compared to the two preceding, where record low temperatures and record snowfalls were a daily occurrence, the message that we must be more prepared for winter has been taken on board by many. Indeed, the Government has produced some great advice for all citizens on how to be winter-ready.
We invite home owners, businesses and public sector organisations to allow us assist in your winter preparations. We are just a call away, with helpful advice and the benefit of our experience. We stock a range of petrol snow blowers, light duty electric snow blowers, salt spreaders and accessories, including Yak Trax for safe walking on icy surfaces. For business, avoid expensive maintenance contracts, invest in quality winter maintenance products so that your own staff can clear ice and snow fall as soon as it happens.
CONTACT US FOR MORE DETAILS, visit our ONLINE SHOP or connect with us on FACEBOOK or TWITTER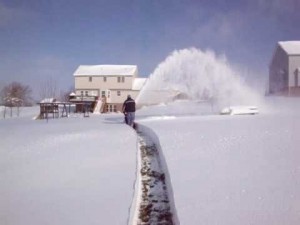 Last modified on 2013-02-18 01:34:57 GMT. 0 comments. Top.
Harsh winter weather, involving heavy ice or snowfall, presents extra and unusual risk in our day-to-day activities. If you are an employer or allow the public on to your premises or facility then you must be able to show that you have considered the safety of your employees or visitors in foreseeable situations. The most common way of doing this is with a risk assessment. This risk assessment should be prepared by a suitably-experienced person and must look at what activities are to be carried on at your premises or facility, what hazards there are (a hazard is the potential for harm), who could potentially be affected and what control measures (if any) could be implemented to reduce the risk of the hazard occurring to a reasonable level. It is helpful to use a risk rating system, for example low, medium and high, in assessing the likelihood of the hazard occurring and severity of the outcome on the persons affected. This is done before and after control measures are employed, with the view to reducing as far as possible the residual risk remaining after well thought out control measures have been applied. The "principal of prevention" is applied, with the aim of avoiding the risk using an alternative approach if possible, and implementing control measures only if risk avoidance is not possible.
For harsh winter weather an example of a hazard might be a slip or fall in an icy car park or entrance to your building. The persons affected are both employees and visitors. The initial likelihood, in the absence of control, is high in frosty weather (we only have to watch a car park or public footpath in heavy frost to see this), and the severity of injury received would also be high, especially if you have older or infirm employees or visitors. For example, a broken hip in an older person could be a life changing injury that might prevent them returning to work, similarly a severe back or head injury in any member of the population. For these reasons, this hazard would be given a HIGH overall risk rating. A suitable control measure could be the clearing of snow and the application of deicing salt to all areas accessed by employees or visitors, particularly designated pedestrian areas and steps where frost is likely to build up. Snow is best cleared with a mechanical aid like one of our snow blowers, while deicing salt is cheap, easy to apply and very effective, becoming more efficient as it is walked into the ground by traffic.
The Health and Safety Authority have a very helpful page on slips, trips and falls in snow and ice. It contains an example of a dynamic risk assessment that may be used for your operations. The Irish Government's Winter-Ready website also offers lots of useful information.
The Be Winter-Ready Booklet states that "The Office of the Attorney General has advised that liability does not arise when snow is cleared from footpaths in a safe manner". What constitutes a safe manner may cause some concern but common sense will prevail. At the very least, it could be interpreted as created no greater hazard than existed previously. The risks to employees undertaking the work must also be assessed, especially since Queen's University (Ontario) has found that at least 7% of their cardiac patients over two winter seasons first discovered symtoms while shovelling snow.
For these reasons, we recommend that companies make a positive, risk based, action plan for dealing with ice and snow and slips, trips and falls. Consult the pages referred to above, and feel free to contact us for information on how our products may help in meeting your needs.
Last modified on 2014-04-27 21:46:14 GMT. 0 comments. Top.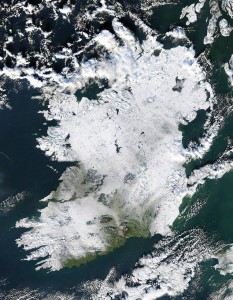 While last winter has a record breaker and has entered the public record as a very notable weather event, it has taught us all to be a little more prepared for snow and ice in winter 2011/2012.
By all accounts we are in for another tough winter. Discussion on online weather forums and professional weather forecasting sites points more freezing conditions, which may be explained by either a visible change in the Gulf Stream or "flatline" solar activity which, it is suggested by the US National Solar Observatory and the Air Force Research Laboratory, could bring "decades" of cold winters to the Northern Hemisphere.
We can give some more proactive advice than the Government sages' recommendations to "buy a barbeque"… Our high quality range of winter maintenance equipment including salt spreaders, electric snow blowers, petrol snow blowers and deicing salt will help you clear snow and ice from outside your home or premises, keeping life and business moving whatever the weather.
Last modified on 2013-02-18 00:33:04 GMT. 0 comments. Top.
We're hoping for some snow soon so we can try them out properly!
20″ electric snow blower running
26″ heavy duty petrol snow blower running
Last modified on 2011-11-27 22:33:41 GMT. 0 comments. Top.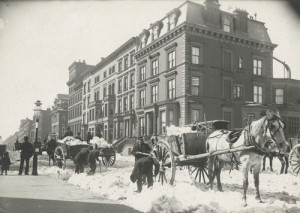 While the authorities in Ireland have had trouble with keeping roads and paths clear of ice this year, many areas of the world have to deal with heavy snow falls for 6 months of each year. The link below delves a bit deeper into the history of large-scale snow clearance in the USA.
http://jalopnik.com/5719723/from-shovels-to-plows-a-history-of-snow-removal
Continue on to view our state of the art snow clearance machines here on this site.