Keep pathways, parking lots and drives clear using rock salt, marine salt or a grit mix and these machines.
Last modified on 2014-04-27 21:37:13 GMT. 3 comments. Top.
Our 25kg broadcast spreaders are great for salt in the winter. We trialled many different makes and models before settling on this one. 50kg spreaders are just too big and bulky, while anything smaller than 25kg is just too small. The build quality on these is far ahead of any others we tried. Sure, there are cheaper products from China, many local hardware stores sell them. But we honestly think you will not beat our rock salt spreaders for practicality, build quality, longevity and above all value.
Inflatable tires.
Corrosion resistant plastic body.
Adjustable spread.
25kg/50lb capacity.
Salt tested 1000 hours.
Also great for fertiliser, fertilizer, lime and lawn seed.
Designed and built in the USA.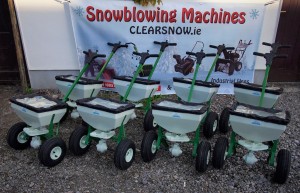 OUT OF STOCK AT PRESENT
Last modified on 2013-11-17 12:06:20 GMT. 0 comments. Top.
A convenient accessory for all petrol snow blowers, MeltBuddy allows operators clear snow and melt ice in one pass.
IN STOCK
FEATURES:
Made With Durable High-Density Polyethylene – survives the most extreme winter conditions
Easy-to-use hand trigger allows precise application of deicing salt to icy spots
Large Capacity Hopper allows extended use
Snap-Locking Hopper Cover keeps blowing snow out & away from the ice melting product