Last modified on 2013-02-18 00:47:50 GMT. 0 comments. Top.
Shear pins are safety devices designed to break in the case of a mechanical overload, preventing other more-expensive parts from being damaged. Think of them like an electric fuse. Please see our guide to replacing shear pins.
Shear pins to fit 26″ model snow blower – MTD Shear Pins 1/4″ with cotter pin
Pin is 1/4″ diameter, 1-5/8″ overall length, 1-1/2″ to the head. The hole for the cotter pin is 1-1/8″ down from the head.
Replaces MTD shear pins part numbers 738-04124A, 938-04124A, 738-04124, 938-04124.
These are Rotary brand parts and are the same as Stens part # 780-241

Shear pins to fit 24″ and 26″ model snow blowers – 1/4″ shear shoulder bolts & locknuts
Husqvarna/McCulloch/Poulan/AYP/Sears shear bolts & locknuts Includes Shear Pin (for 192090) and Locknut (for 73800400). Size: 1/4-20, Overall length 2 1/8″, OD: 1/4″, Shear bolt length 1 13/16″
Replaces: 192090 shear pins, 73800400 locknuts. Part number: 532192090, 532 19 20-90, AYP/192090, 192090, 19 20-90, AYP 2004 models: PO10527ESA, PO8527ESA, PP1130ESC, PP524B, PP5524ESC, PP927ESC, PR10527ESA, PR524ESA, PR8527ESB, McCulloch MC12527, PM55, PM85, PM105

Last modified on 2022-12-12 22:07:45 GMT. 1 comment. Top.
Designed in the USA, Yaktrax Walker is a lightweight and easy-to-use ice traction device. Perfect for when you're out clearing snow and ice, or just walking to the car or to work, the Walker provides greater stability while walking on snow and ice. Made of an injection moulded thermal plastic elastomer with hand-wound rust resistant coils, the Walker bites into snow and ice with each step you take, giving you 360˚ of traction.
Price: €20 per pair – Contact us for details or order below for shipping within Ireland.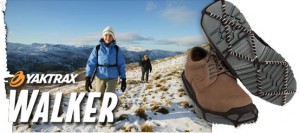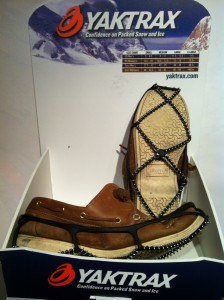 The original Yaktrax design has the following features:
Yaktrax Walker ice grips are made out of an injection moulded thermal plastic elastomer designed for easy on and off.
Extremely light weight, between 45gm and 95gm depending on size.
The 1.2mm steel coils are protected against rusting and hand-wound to give you 360 degrees of traction on ice and snow.
The steel coils include 70% recycled material, making them eco-friendly.
When you walk in the Yaktrax Walker Black, every step you take places hundreds of biting edges in direct contact with the ice beneath your feet to help prevent slips and falls on icey surfaces.
Yaktrax Walker ice grips can be worn in temperatures as low as -40 degrees celsius.
The patented design of the Walker makes it a unique solution to walking on packed snow and ice.
The outer band conforms to the length and width of your boot or shoe.
The high strength horizontal coils provide forward and backward stability. The vertical coil pattern provide side-to-side stability.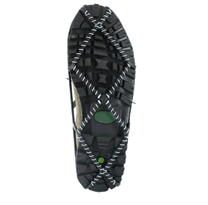 Just back from 6km walking in YakTrax Walker and they really are great.
My street and drive are ice covered at least 1-2 inches thick and then it melts on top of the ice and it is impossible to stand up. I purchased the Yaktrax and let me tell you, they are worth every penny. 5*
I would recommend it for anyone living in an area with snow and ice. I got them for the whole family!! 5*
We suggest you fit the Yaktrax walker while seated, lift one leg up so your ankle is on the other legs knee, take the ice grip and locate the front, slip over the toe of your footwear then pull the back of the grip over and up the back of your heel. Once in place make sure the coils are centred on the shoe or boot and repeat the process for your other foot. The video below will help to explain this process. Yaktrax are only for use on ice or snow, using Yaktrax on other surfaces is dangerous and may cause injury or damage.
Sizes available:
Size   -    EU     -  UK
XS     -   34/37   -  2/4
S      -   38/40   -  5/7
M      -   41/4    -  7.5/9
L      -   44/46   -  9.5/11 OUT OF STOCK
The weather conditions last winter provided pedestrians with the challenges of negotiating frozen pavements for many weeks in some parts of Ireland, many injuries were caused by slipping and in a lot of cases it was more than the victims pride that was hurt, ice grips for shoes will help prevent this. Owning and using a pair of ice grips, should we get the same conditions will help to improve the chances of you being able to walk to your destination without slipping and get you there in one piece. Be prepared and buy your Yaktrax ice grips here today.
Price: €20 per pair – Contact us for details or order below for shipping within Ireland.
Last modified on 2013-11-17 12:06:20 GMT. 0 comments. Top.
A convenient accessory for all petrol snow blowers, MeltBuddy allows operators clear snow and melt ice in one pass.
IN STOCK
FEATURES:
Made With Durable High-Density Polyethylene – survives the most extreme winter conditions
Easy-to-use hand trigger allows precise application of deicing salt to icy spots
Large Capacity Hopper allows extended use
Snap-Locking Hopper Cover keeps blowing snow out & away from the ice melting product
Last modified on 2020-12-30 21:42:45 GMT. 0 comments. Top.
Required for safety while operating our range of electric snow blowers or starting up petrol snow blowers with electric start.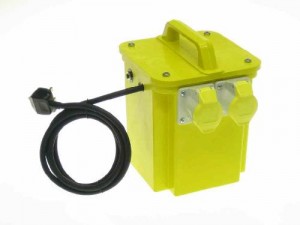 Manufactured to BSEN61558 & BS4343
Housed in reinforced fiberglass cases providing security and durability.
These 110V site and tool transformers all conform to the strictest safety standards.
IN STOCK